The Golden Cockerel: Bringing Russia's Best to Boone
by Denise de Ribert
This article appeared in the Mountain Times, 7/22/1999.
Open the door to The Golden Cockerel, the newest gallery in the High Country, and discover the exotic handiwork of Russian artisans in myriad forms.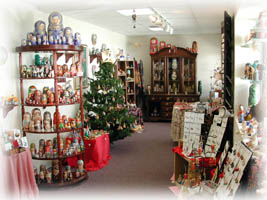 Lacquered jewelry, papier-mache boxes with exquisite scenes, handpainted eggs and ornaments, woodcarvings and woolen shawls are among the treasures offered. But perhaps most familiar and popular is the Russian nesting or stacking doll, known in Russia as Matryoshka. The Golden Cockerel gallery displays the largest collection of Matryoshka dolls in the Southeast, literally dozens of versions, from traditional Russian maidens to nesting animals to a doll with Bill Clinton and other US presidents inside!
These wooden dolls, a Russian folk craft dating back to the 1890's, are composed of sets of dolls in graduated sizes that fit inside each other. The Golden Cockerel carries Matryoshka dolls in 2 to 30 piece versions. Their mini nesting dolls are unbelievable: one doll stands only 1.5" high yet opens to reveal 9 more detailed dolls inside!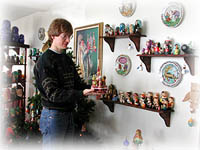 This gallery, easily confused for a museum of Russian applied art, is the newest dimension of Golden Cockerel Crafts, the import business built by Boone resident Walton Conway following his two-year stint as an English teacher in St. Petersburg, Russia.
Conway's journey began as a 1,500 mile bike ride from the former West Germany to the Soviet Union during the summer of 1991, a time of uncertainty and change for the friends he was about to make. While the fall of communism may have brought hope in some circles, Conway arrived during Russia's winter of despair. The economic chaos that coincided with the Soviet Union's demise had a negative impact on many lives, something Conway witnessed firsthand. Inflation, housing and food shortages, and social upheaval impressed him with a desire to help.
When Conway returned to the States in 1993 and moved to Boone to take a teaching position at Appalachian State University, he brought with him a suitcase full of Russian nesting dolls packed by his newfound Russian business partner and former student, Roman Karkachev. Together they had high hopes that their fledgling import business might take wing, and through its success, give hope and support to at least a handful of struggling Russians.
Making his start as a wholesaler with a warehouse in his basement, Conway found great interest in his unique imports and garnered long-lasting support from gift stores and galleries throughout the Southeast. The Curiosity Shop and Lily of the Valley of Boone, and Hanna's Oriental Rugs of Blowing Rock, have carried Golden Cockerel Crafts' hand-painted products for years.
Midway through 1997 Golden Cockerel Crafts launched a web site that has been instrumental in the company's growth. Collectors from all over the States and beyond began connecting with Conway through the internet as his company became recognized as one of the premier manufacturers of Russian nesting dolls in the world, employing nearly 100 artisans and crafters throughout Russia.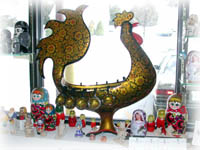 By working directly with the Russian artists, Conway has been able to have a hand in the creation of new items, designing and commissioning nesting dolls the likes of which the world had never seen. His exclusive line of nesting animals (frogs, pigs, cows, elephants, and cats to name a few) has significantly influenced trends in contemporary Russian folk crafts and has earned his company a spot in the literature that surrounds these collectibles.
Custom work is The Golden Cockerel's forte. It offers custom portrait boxes and family nesting dolls, as well as promotional items displaying corporate logos.
Recently, Gramercy Pictures of Beverly Hills, CA, contracted with Conway to produce a nesting doll to promote their upcoming movie "Being John Malkovich," starring John Malkovich, John Cusack, Cameron Diaz, and Catherine Keener. The nesting doll will feature the movie's characters and reflect the convoluted theme of the film.
With his inventory and family expanding, last month the young entrepreneur moved his showroom out of his home to the new location now open to the public on NC Highway 194 at Howard's Creek. Though Russian fairy tales and folk scenes are the inspiration for much the gallery offers, shoppers will also find a bit of local color there. The "Wings of Freedom" series features North American bird species on jewelry, ornaments, and eggs. Earrings, brooches, and a nesting doll depict familiar North Carolina lighthouses. Another series of brooches are painted with typical Appalachian landscapes. And the "Presidential Affairs" doll with Bill and Monica elicits chuckles and groans from customers, depending on one's political perspective.
In another vein, religious themes decorate a number of pieces, celebrating the deep-rooted Russian Orthodox spirit that decades of repression could not wipe out. Magnificent recreations of Russian icons and Biblical scenes adorn various decorative items. Angels take wing on eggs, dolls, ornaments, and jewelry. The artists in Russia today are free to follow their inspiration, and it shows in these works.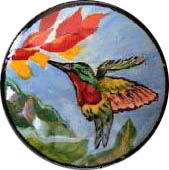 Some of the rarer finds on display in the galley are actually painted by Russian orphans. Golden Cockerel Crafts was founded upon a desire to help others help themselves, providing a market for the work of Russian artists. This spark of inspiration found a home in a number of professional artists in Russia who agreed with Conway to go one step further and start "A Hand Up" program to benefit the orphans of St. Petersburg. Nurturing the next generation of artists, they teach traditional Russian painting styles to the residents of Orphanage No. 3. The orphans use their newfound skills to paint brooches which the company "sells" for an $8 donation to the orphanage, with all proceeds going back to benefit the youngsters. Last winter, for example, the purchase of new winter coats for the entire orphanage was made possible through this effort.
Golden Cockerel Crafts invites all to come in and browse the gallery's wares. Wholesale and dealer inquiries are welcome, too.
Interested parties can call (828) 297-4653 or 1-800-892-5409 for additional information.