Give an Artful lift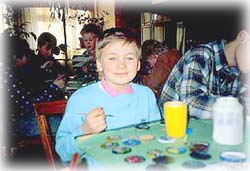 Nadia Ivanenko (8 years old), Sasha Petrov (12), and several dozen brothers and sisters at Orphanage No. 3 in St. Petersburg, Russia, are taking measures to carry their own weight. They're participating in an innovative program meant to encourage their artistic talents and give them a chance to support themselves--no small dream in the difficult reality of post-Soviet Russia.
The program, "A Hand Up," is a reaction against cuts in government funding for the orphanage and was designed by Golden Cockerel. Dedicated to helping Russians help themselves,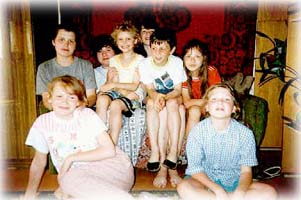 Golden Cockerel arranges for professional artists to teach the children the traditional Russian folk art of painting brooches. The brooches are then "sold" in America for modest donations to the program. All of the proceeds (100%) are split between the young artists and their orphanage, badly in need of repairs, bathroom renovations, etc.
Nadia, Sasha, and all the others say spasibo (thank you!) for your encouragement. Their brooches make unique gifts and are guaranteed to bring smiles across the miles.
Here are some samples of the orphan brooches. Please note that the children choose their own subjects and that every brooch is unique, no two being alike. Though we can accomodate general wishes (nature, flowers, etc.), please be prepared to be delightfully surprised by the art you receive, should you order.

A Hand Up: Making A Difference!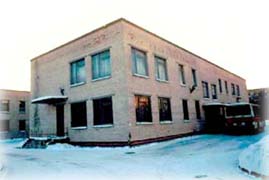 While our program benefits the orphans in sundry intangible ways, such as building self-esteem, it creates a very tangible difference in their lives as well. Since we started A Hand Up in 1996, we have raised $15,000 (as of 1/2004) through the sale of orphan art. A goodly portion of this goes directly to the orphans to allow them to buy their own necessities (clothes, etc.), but we occassionally spend these proceeds for the general benefit of all the orphans. Some of our projects are outlined below.
One of the first ways we helped was to remodel a shower unit in the orphanage. The condition of their bathroom clearly left something to be desired
Before
After we finished the renovation
The simple things we often take for granted, like a new, clean bathroom, are sometimes wondrous to those who have never experienced such
For a Christmas gift in 1998, the director of the orphanage requested winter coats for the kids, as there was dire need in that area. Many of the children had actually never owned their own coat, much less a new one, as all clothes in the orphanage are communal and hand-me-downs. Now the bright colors of the new coats have done a lot to turn the orphanage from bleak to cheery, and the young artists are clothed as colorfully as their art!
Here are excerps of a 12/98 letter written by Roman Karkachev, director of our offices in St. Petersburg:
Dear Walton,


We dedicated this day to the orphanage. All the day we were buying warm down jackets. It felt good that people selling jackets at the open air market were ready to help and gave us good prices for very nice high quality jackets... We bought a total of 39 jackets for $1233.45.

Olga Lancheva, the director of the orphanage, could not believe my words when I called her tonight. I picked her up at her house and all the way to the orphange she thanked God for such gifts.... We left the clothes at the director's room...A little boy who was in the room tonight and tried on a fashioned, bright red jacket could not believe that it is really for him personally when Olga Lancheva put a note with his name on it in the pocket and then repeated "Thank you, thank you" many times. That was kind of sentimental :)

They have two young girls working as nurses. They are paid 150 rubles ($8) a month and wait for the rest of their salaries (~$12 more) for months. How can they survive without home, without family?

Hello to you from Olga Lancheva and the children. Thank everybody there for help. We do a big thing together. RK
Want to help? To "buy" brooches, please call us (1-800-892-5409) or use our on-line order form and we'll promptly mail you the wearable child art pinned to an information card that tells about the program. If you'd like to help in other ways, such as displaying the brooches in your church or store, please contact us--we, and the orphans, would be delighted.