Founded on Friendship
by Leigh Ann Henion
This article appeared in Our State Magazine, September 2008.
A transnational partnership turns into a golden opportunity for two businessmen and their communities.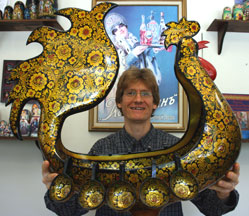 Once upon a time, in a land far away, Walton Conway found himself sitting at a table opposite a man he would've considered an enemy in childhood. The man, Roman Karkachev, grew up in the Soviet Union. Conway came of age in Gastonia, where he remembers being aghast at his parents' descriptions of life as they imagined it in a communist country. In his youth, Conway envisioned the Soviet Union as a place full of stern-faced men and precariously positioned missiles, a perception fueled by the Cold War. "When I decided to go teach in Russia, people kept asking why I would want to live there," he says. "I felt Russia was sort of a forbidden country. … I wanted to go to Russia to be an ambassador, to learn what life was like there, and to make friends. I believe every individual friendship is a link to world peace."
Friendship Flourishes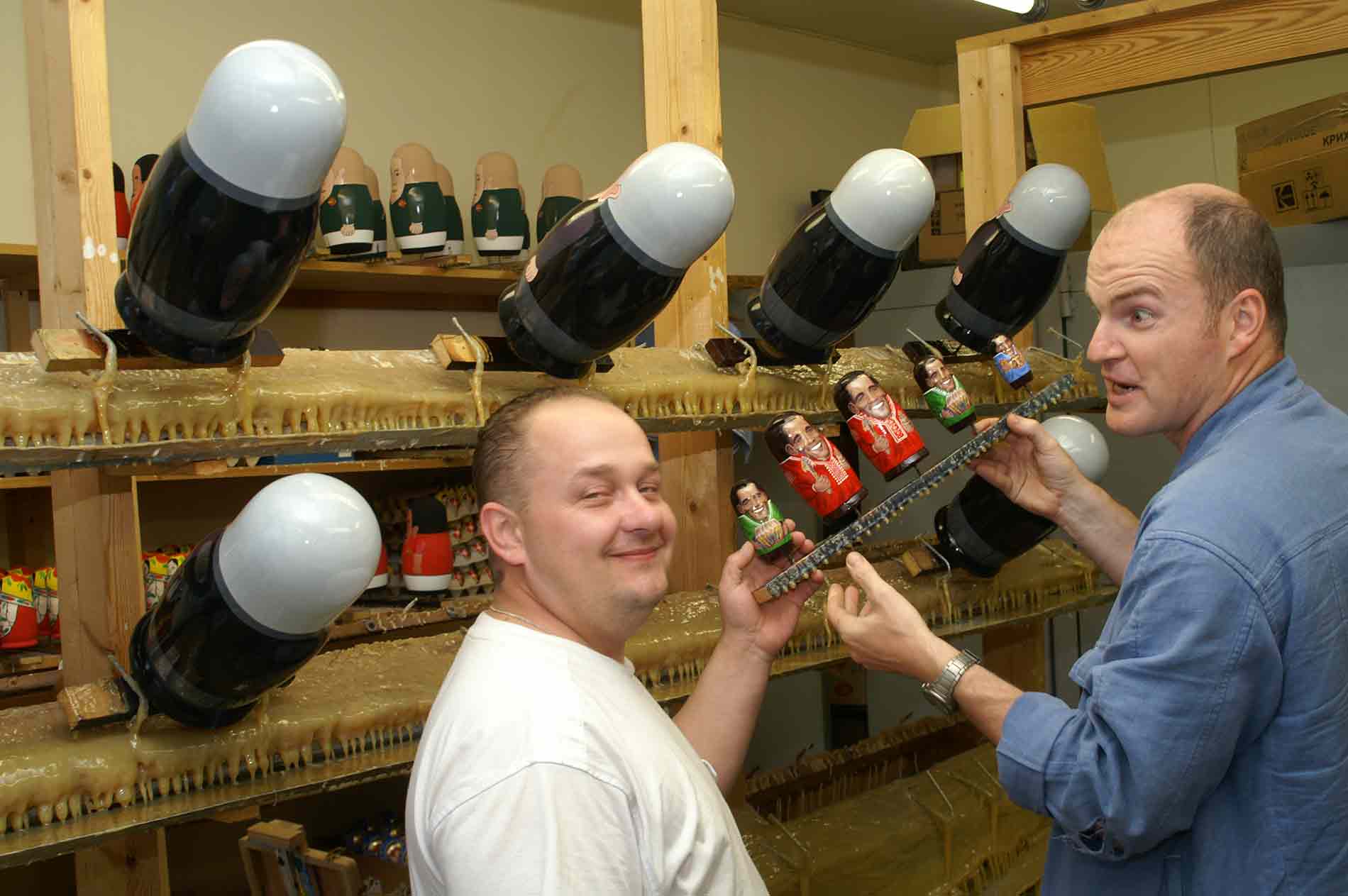 Karkachev was one of Conway's first students at the language school that had invited him to teach in St. Petersburg, Russia. The winter after Conway arrived, in 1991, was particularly hard, and food was scarce. "Roman and his wife, Olga, helped me get through my first winter there," he says. "He would call me and tell me he found a gallon of milk that he was willing to share, or he'd call and say, 'Meet me at the station, and I'll give you some bread.'"
The bond between the two men strengthened during Conway's stay, and, when he realized he was ready to return home to North Carolina in 1993, he was concerned about leaving his new friend behind. The Russian economy was in turmoil due to communism's recent fall and, although Karkachev was slated to graduate with a university degree in physics, he had little hope of getting a government job. "Back then, the only way to make ends meet in Russia was to buy and sell something," Conway says. The two men met at a St. Petersburg library to say goodbye on Conway's last day in Russia, but they were also solidifying a plan. Former Soviet president Mikhail Gorbachev had recently announced that independent businesses were allowed in Russia; Conway and Karkachev planned to utilize this freedom by promoting one of Russia's beloved folk crafts — the matryoshka doll, also known as Russian nesting or stacking dolls.
Matryoshka dolls are slightly contoured, egg-shaped wooden toys made up of many pieces that open to reveal smaller characters hidden inside. One doll can hold 40 or more interior parts. Matryoshkas are often seen as representing mother Russia, and the snug dolls-within-dolls symbolize blessings upon blessings waiting to be discovered.
In a show of faith, Karkachev laid his life savings of $500 down on a library table that day. Conway matched his investment, dollar for dollar. After Conway and Karkachev shook hands as partners, the money was spent at the St. Petersburg craft fair where traditional artists and out-of-work professionals, desperately trying to make a living, peddled nesting dolls, Russia's most beloved souvenir.
The next day, when Karkachev took Conway to the airport, the two men lugged a suitcase full of nesting dolls to be sold in the United States. "At that time, I was sure I'd never see Roman again," Conway says, "but he was confident the business would succeed. He was right. I've talked to him almost every day since."
A Business is Born
Back home, Conway toted his suitcase door-to-door to sell dolls to gift stores in Gastonia, Raleigh, and Greensboro. He soon settled in Boone, and the mountain town subsequently became home base for a Russian cottage industry that had gone global.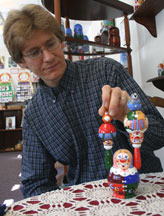 The business, coined Golden Cockerel, soon grew beyond Conway's home office and into a showroom. The business also thrived on Russian soil under Karkachev's leadership. Instead of purchasing dolls at markets, as most importers do, Conway and Karkachev decided to establish their own workshop in St. Petersburg. They now employ 25 full-time artists and a number of people who work out of their homes, not to mention the families involved with wood harvests and carving. In all, Golden Cockerel now operates with the support of 100 craftspeople. Perhaps the most unexpected development in the Golden Cockerel's unlikely story is its entertainment industry connection, which began in earnest when the business was hired to create 40,000 nesting dolls as a promotional item for the 1999 release of the Oscar-nominated film, Being John Malkovich. That year, Golden Cockerel's dolls won an "Unsung Oscar" from Premiere magazine as Best Promotional Merchandise in the Movie Industry, and commissioned requests haven't stopped coming in. The company has since created marketing items for clients as diverse as Comedy Central, Coca-Cola, and John Deere.
Golden Cockerel has grown into one of the foremost Russian nesting doll producers in the world, and the Boone business has played a key role in changing the face of contemporary Russian folk art. Golden Cockerel's first breakthrough design was a circus clown doll with cupped hands that allowed it to do a headstand. When the circus character's inner dolls are taken out, they balance on the outer clown's cupped hands to create a tower of acrobatic clowns and monkeys. One of the innovations Conway is most proud of is a nesting spinning top, which includes layers of tops that are fully functional together and separately. "Playing toymaker is one of my favorite parts of this job," he says. He's also been instrumental in the creation of nesting animals, some of which are fitted with three-dimensional ears and snouts. Golden Cockerel manufactures nesting ladybugs, cows, pigs, roosters, elephants, owls, and cats, to name a few. The company also features a line of hand-painted brooches featuring North Carolina icons like cardinals on dogwood trees, the Hatteras and Bodie Island lighthouses, and various miniature landscape paintings inspired by the Appalachian scenery of Watauga County. "A lot of people in Russia know a lot about North Carolina because I'm always talking about it," Conway says, "and they've painted a lot of North Carolina landscapes."
Power of Pushkin
Golden Cockerel is housed in a multi-use building off N.C. Highway 194. It does much of its business through the Internet, but Conway enjoys the interaction his Boone showroom affords. Customers discovering the store for the first time often inquire about the business's name, which is taken from Alexander Pushkin's "The Tale of the Golden Cockerel." In Pushkin's fairy tale, a tsar is given a magical golden rooster, which is intended to protect him. In gratitude for the rooster, the tsar offers to grant a wish to the sorcerer who gives it to him. But the tsar later goes back on his word to the sorcerer, and the rooster ultimately turns on the tsar because of this betrayal. The name was not chosen casually. "When I came home from Russia with this business in my hands, I perceived it as a gift, very much like the cockerel was a gift to the tsar," Conway says. "I wanted to always remember to keep my promise to Russia and my friends there. I didn't want to give greed a chance to take hold. I thought if I named the business Golden Cockerel, I would always be reminded to honor my promise to respect my partners and to work with them in good faith. I truly believe the equal partnership I have with Roman is the reason we've been so successful." Conway pauses to survey his showroom's artistic inventory, smiles, and says, "You know, it's funny. I did exactly what I set out to do. I set out for Russia hoping to build a friendship, and I ended up finding a friendship that has survived and changed over time." He continues, "I feel a little like the youngest son in a Russian fairy tale where the mother says, 'Go out into the world, and make your fortune.' I never imagined I'd be doing this kind of work, but fate has a way of making things happen."
And fate might lead some lucky souls to the side of N.C. Highway 194, where they'll find themselves drawn to a seemingly out-of-place "Russian Gifts" sign. If those travelers peer into the window of the unassuming, brick-and-mortar store just beyond, they'll see a golden cockerel-shaped punch bowl, complete with 10 lacquered cups for sharing — the perfect symbol of a promise kept.